A website that transforms each year
TEDx Thiruvananthapuram is an annual event with a different theme each year. The key challenge was to eliminate the expense of creating a new website every year. We wanted to provide a website that could easily transform each year to accommodate the theme of the event. In order to execute this strategy, the elements of the website were classified two:

1. Elements that needed to change every year with the theme.
2. Elements that didn't need much change.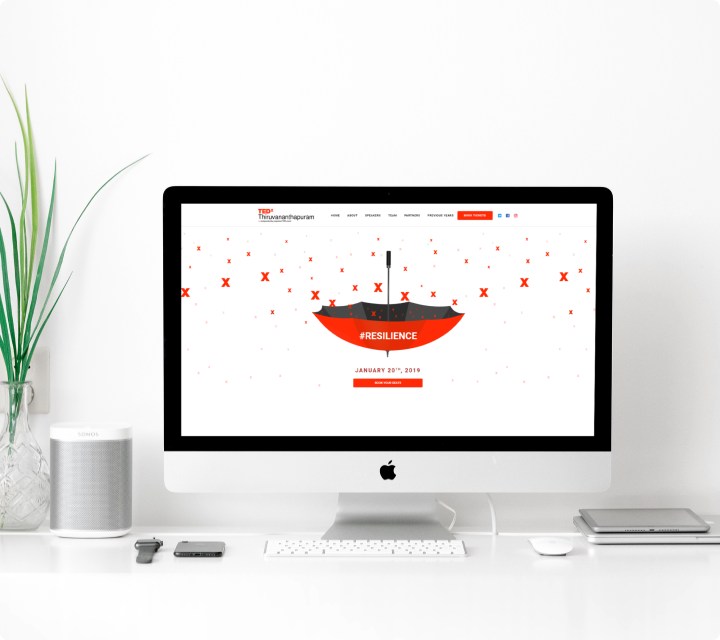 Elements that change
The hero section (above the fold) is the main part of the website where the theme is reflected. So, we kept the elements in this section less connected to the other elements design-wise and open for change development-wise. This strategic design allowed the transition from one theme to another to be independent, faster, and seamless.
Elements that do not change
The list of participants, team members, partners, and other details of the event are elements that do not require many design changes, although the content will change. By following a consistent design for them that reflected the TEDx branding instead of the theme branding, it became easier to maintain the site's consistency throughout the changing themes.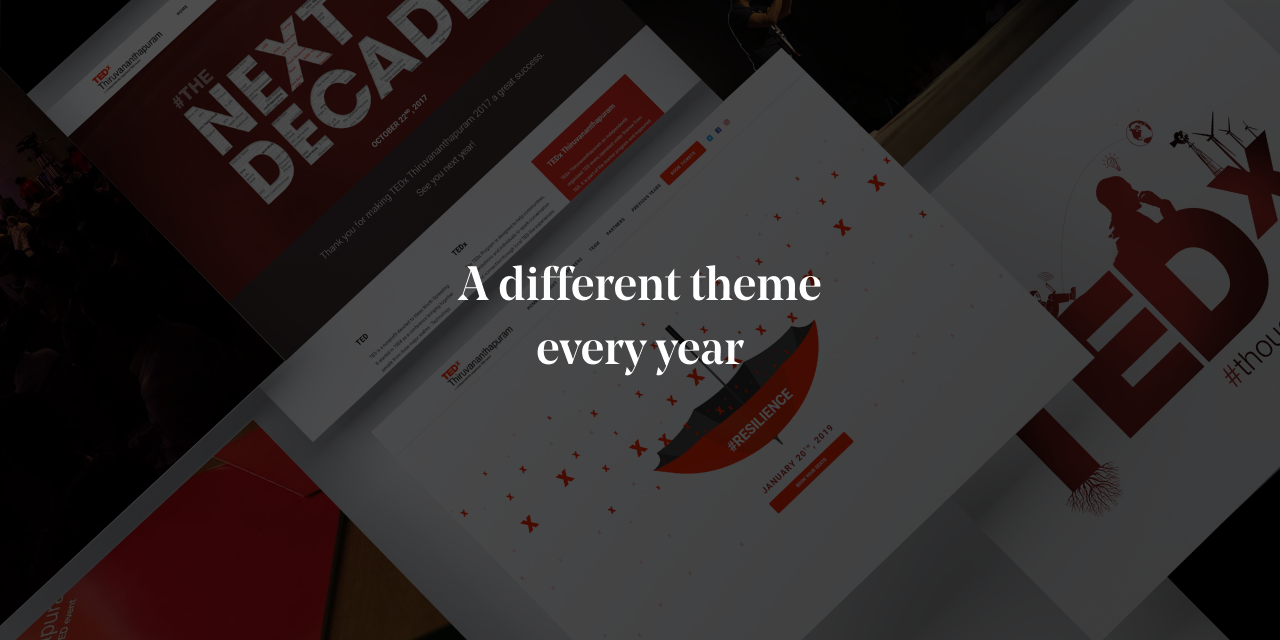 2019: Resilience
Kerala met its most devastating natural calamity in 2018. The heavy monsoon rains brought huge destruction and loss to many. However, the people of the state stood together and fought against the flood with their quick thinking and collective efforts. To commemorate their exemplary courage and the determination to recover, TEDx Thiruvananthapuram made 'Resilience' the central theme for their 2019 event.
2017: The Next Decade
In 2017, TEDx Thiruvananthapuram decided to welcome the coming decade by paying homage to the groundbreaking ideas and events of the last. To convey this theme effectively, we took the phrase 'NEXT DECADE' and used each letter to represent each year of the previous decade. Major events from each year were illustrated in the corresponding letter to emanate the concept. The background is a video of a rotating earth to depict passage of time.
2016: Thought Conflux
Ideas and perspectives can change from person to person. They can be unique, innovative, or influential. The 2016 TEDx Thiruvananthapuram aims to bring all these vibrant ideas and perspectives to its platform and converge them for something better. The theme 'Thought Conflux' reflects this concept.
Archiving and managing the previous years
Most TEDx event websites change annually. As a result, the theme, information about the speakers, and other valuable elements from the previous years are lost. For TEDx Thiruvananthapuram, we wanted to do justice to the efforts and ideas that made each year unique. So, we decided to provide a separate section where visitors can explore the previous years. We think of it as a way to preserve the 'ideas worth sharing' for future generations.